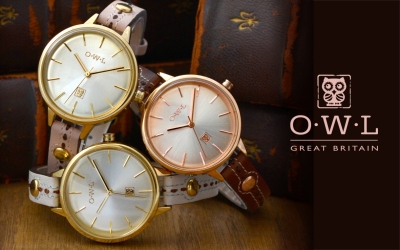 Welcome to the boutique watch brand OWL Great Britain, where all the collections are inspired and designed.
O.W.L Watches offer a choice of vintage styling brought up to date with designed features, such as dual layer dial details, mixed brushed and polished metal finishes and unique signature details.
Here at O.W.L Watches design is key to the collection!
We research latest trends, key season colours, what is happening on the runways at all the key fashion shows and inject it into our watches and design. Beautiful colour leathers are key to the collection along with our detailing such as brogue straps, stitch detailing and our unique metal shoulder tabs.
We also look to push the boundaries on watches introducing new techniques, new leather,new sizes and new shapes so you can have something, unique, bespoke and very special.
To finish, all the collection is packaged in a beautiful box inspired by a Victorian travel case.